Welcome to The Teaching Home!
Since 1980 The Teaching Home has been providing homeschool families Information, Inspiration, and Encouragement from a distinctly Christian perspective!
We offer resources to enable you to . . .
Educate and energize yourself;
Make your teaching easier, more fun, and more enriching;
Receive solid foundational and practical how-tos for academic and character training.
You can . . .
Discover fresh, innovative, ready-to-use teaching tips for activities and learning
Gain inspiration and encouragement for teaching and training your children
Equip yourself for your calling as a parent/teacher and gain confidence.
May the Lord bless your family for His glory.
Cordially,
The Welch Family, publishers
---
Free Email Newsletters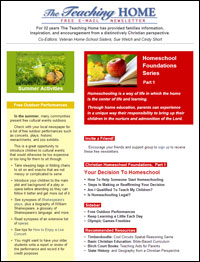 Content-rich
Information, inspiration, and support
Holiday Unit Studies
Lots of Links & Freebies
Plus Supporting Resource Emails
Free Online Library of Information Coming!
See Archives of 300+ newsletters covering basic
and advanced topics of home education, such as:
Christian Homeschool Foundations Series
Beginning Your First (or Any) School Year
Holiday Unit Studies & Teaching Suggestions
Academic & Character Teaching Tips
See Archives of 300+ newsletters
     "For years I have been saving your email newsletters and I refer back to them all the time. It is one of the most worthwhile homeschooling resources I receive." – A Reader
Getting Started
Frequently Asked Questions Regarding Home Schooling [Here]
10 Articles on Home-School Basics
2 Checklists
Also See the Christian Homeschool Foundations Series in Our Newsletter Archives