"Get Math Relief" is the subject line of the e-mail accompanying and sponsoring this newsletter.

Invite your friends to subscribe to this free e-mail newsletter at http://www.TeachingHome.com/SignUp.

Table of Contents
Make the Lord the Center of Your Home School
1. Rely on the Lord.
2. Spend Time with the Lord.
3. Include the Lord in All Your Studies.
Recommended Resources
Academic Book Services: Quality Used Textbooks
Beyond Phonics for Poor Spellers
"School Days Devotional Praise"
"Christian Ethics for Youth"
God's World Weekly Current Events Newspapers
Sunnyside Up: Humorous Anecdote

Greetings,

The premiere privilege that we can enjoy as Christian home
educators is to make the Lord Jesus Christ the focus of our
children's education as well as of our homes.
In this issue we wish to point you to Him and suggest
practical ways to make Him the center of your home school.
May the Lord bless your family for His glory!

Cordially,
Pat, Sue, Heather, Holly, and Brian Welch
The Teaching Home is a 24-year-old, home-school family business.

Continue Receiving This Free E-Mail Newsletter
Whitelist us by putting the following information in your program:
* Our "From" address: Publisher@TeachingHome.com.
* Our sending IP address: 199.108.225.11.
* Our domain name: teachinghome.com.
____________________________________________________
51 Back Issues of The
Teaching Home Magazine
Offered for Sale Online.

Full of information, inspiration, and support that never goes
out of date. These issues are relevant and applicable to your
needs today. http://theteachinghomen.goemerchant7.com
In each issue an average of 58 home schoolers contribute
practical how-to articles, encouraging letters, and ready-to-use
teaching tips.
____________________________________________________

Make the Lord the Center of Your Home School
by Cindy Short and Sue Welch, editors

1. Rely on the Lord.
"I waited patiently for the Lord;
and he inclined unto me, and heard my cry.
Blessed is that man that maketh the Lord his trust."
(Psalms 40:1, 4a)
He Is Always There.
Call on Him at any time, day or night. His invitations and
promises to you assure that you will never become a burden to Him.
"Come unto me, all ye that labor and are heavy laden,
and I will give you rest." (Matthew 11:28)
"I will never leave thee, nor forsake thee." (Hebrews 13:5)
He Is All-Knowing and All-Wise.
The Lord knows exactly what you are going through and how
you feel. He knows precisely what your family needs, both now
and in the future. He is willing to share this wisdom with you;
all you have to do is ask.
"If any of you lack wisdom, let him ask of God,
that giveth to all men liberally, and upbraideth not;
and it shall be given him.
But let him ask in faith, nothing wavering." (James 1:5-6a)
"For we have not an high priest which cannot be touched
with the feeling of our infirmities;
but was in all points tempted like as we are,
yet without sin.
Let us therefore come boldly unto the throne of grace,
that we may obtain mercy,
and find grace to help in time of need."
(Hebrews 4:15-16)
He Is Loving and Kind.
The Lord loves you and your family with unfathomable, pure,
unfailing love.
"Casting all your care upon him;
for he careth for you." (I Peter 5:7)
He will give you what is best in His time and in His way.
This is where our trust in Him must be implicit.
"And we know that all things work together for good
to them that love God." (Romans 8:28)
Sadly, we all too often fail to receive the gracious gifts
of our Lord because we get into the habit of trying to meet
our own needs, forgetting to turn to the Lord.
The physical world can seem more real to us than the unseen
spiritual world. We can correct this misperception and find our
Lord's aid and fellowship if we spend time with Him in the
ways suggested below.
____________________________________________________

Delivering Quality Used Textbooks
A valuable source in locating books to use in developing
coursework for home curriculum or purchasing books for
different grade/age levels to challenge pupils in subject areas.
Site created to be convenient for home educators.
http://www.academicbookservices.com
____________________________________________________
2. Spend Time with the Lord.
Grow in Your Love for the Lord.
The more your family knows about the Lord, His love, and His
promises, the more they will love Him. You will grow to love Him
more as you spend time with Him in meditating on His Word, His
wonderful attributes, and His goodness to you.
Spend Time Daily with the Lord in His Word.
Teach your children to love and obey the Lord by helping them
get to know Him and what He tells them to do in His Word.
Morning, noon, and night is not too much. You can have your
private time with the Lord in the morning; read, study, or
memorize Scripture in your school time or at the lunch table; and
have family Bible reading in the evening at the table, or before
bed, with Dad.
It is in His written revelation to us that we meet the Lord
and He speaks to us.
"This Book of the Law shall not depart from your mouth,
But you shall meditate on it day and night,
So that you may be careful to do according
To all that is written in it;
For then you will make your way prosperous,
And then you will have success." (Joshua 1:8)
Talk to the Lord Frequently in Prayer.
It might be hard to visualize the Lord beside you all day
long, but if you engage in conversational prayer with Him
throughout the day, you will be reminded of, and comforted by,
His presence.
Also set aside a time for both private and family prayer.
Praise and thank Him for what He is and what He has done for you,
as well as seeking His help for the specific issues that you are facing
in your life.
Maintain Fellowship with the Lord.
Keep "short accounts" with others (especially in your
family) and with the Lord so that you can walk with Him in the
light.
"That you too may have fellowship with us;
and indeed our fellowship is with the Father,
and with His Son Jesus Christ.
If we confess our sins,
He is faithful and righteous to forgive us our sins
and to cleanse us from all unrighteousness." I John 1:3, 9
____________________________________________________
It's not too late for poor spellers. Written for teens.
Perfect for the whole family. Catch up or accelerate spelling
at all levels with Christian value-based word family stories.
http://www.beyondphonics.com 1-800-51-TEACH
Two Resources from the Publisher of Speedy Spanish
http://www.speedy-spanish.com
Teach Character. "School Days Devotional Praise" 150 days of
Character-building stories, tape of songs, posters. (grades 1-8).
http://www.storesonline.com/site/331083/product/588-4462914
Teach Ethics. "Christian Ethics for Youth." Topical devotional
and study book on Proverbs with illustrations and applications;
workbook.
http://www.storesonline.com/site/331083/product/49-4794943
____________________________________________________
3. Include the Lord in All Your Studies.
The facts, truths, and principles revealed in God's Word
should form the basis for each course of study. The practical
uses and applications of acquired knowledge are also unique for
Christians, as we seek to please the Lord and do His work in the
world.
Emphasize Basic Spiritual Concepts that Relate
to Each Subject.
Math
Mathematics can illustrate the consistency and beauty of
God's creation. It is used in measurements of fair trade, in
beneficial scientific studies, and for producing all that is
necessary or helpful to mankind.
Language
Accurate reading, writing, speaking, and understanding of
language is essential for communication. Through language we hear
and proclaim God's Word, we teach and learn from others, we do
good business with each other, and we maintain godly
relationships.
You can use the Bible in your language arts classes for
reading, examples of grammar, and copying for penmanship.
Literature
God's standards for all we take in, and hold in, our minds include
truth, beauty, and purity.
Science
Facts revealed in God's Word that relate to science guide our
understanding of what we see in nature, such as the creation and
the worldwide flood of Noah's time. Our use of science must also
respect the sanctity of human life and reflect good stewardship
of God's gifts as well as compassion toward His creatures.
History
The Bible gives us the framework for all of history, from the
very beginning until the prophesied end of the world. God expects
us to learn practical and spiritual lessons from the study of
past events as well as see His hand in the affairs of man.
Geography and Social Studies
The Bible tells us we are all sinners who came from Adam
through Noah, that God loves us all, and that we as Christians
are His ambassadors of the gospel to the whole world. Our
knowledge and understanding of different cultures is based on
these facts and is useful for that purpose.
See how a biblical worldview is presented in curriculum at
http://www.abeka.com/About/Distinctives.html
http://ClassCurr.notlong.com.
Analyze and Evaluate Curriculum and Resources
from a Spiritual Viewpoint.
The Author's Perspective
Ask yourself what the author's perspective and point is?
Was the author's purpose to entertain, inform, impart a message,
or persuade the reader to change his mind?
Consider what worldview is infused into nonfiction and
reference materials, as well as in fiction.
Find more information about analyzing material at
http://www.teachinghome.com/newsletters/vol_2-no_28.cfm.
The Actual Content
Whether you are discussing an event in history, a
discovery in science, or a piece of literature, evaluate it by
standards such as truth, morality, accuracy, validity, value,
and excellence.
God's Perspective on the Subject
Find out what God says about it. Look up scriptures that
relate to the topic you are studying to get God's perspective on
it. Use your Bible concordance or a topical Bible.
Have a wonderful year with the Lord at the center of your
home school!
____________________________________________________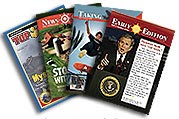 God's World News Is
a Welcome Complement
to Your Curriculum.
These weekly current events and activity newspapers use
today's news and discoveries to help you teach your children
to develop a Christian perspective on world events. Your
children will love the fascinating stories, colorful photos, and
engaging activities. http://www.gwnews.com/theteachinghome/
(Please use the special link above so that your order will be
credited to The Teaching Home's affiliate account. Thank you.)
____________________________________________________
Please Thank and Support
Our Sponsoring Advertisers!
These free newsletters are made possible financially by
the fine suppliers who advertise in them and the accompanying
e-mail. Please consider those that advertised in our last issue
(below) as well as the ones in this issue.
Christian Book Clearinghouse
http://store.yahoo.com/cgi-bin/clink?cbc-on-line+4VFxBe+index.html+tth090304fus
Homeschooler's Journals by Ferg N' Us Services
http://www.fergnusservices.com
Money Camp Teacher Training Camp
http://www.themoneycamp.com
____________________________________________________
Sunnyside Up: Who's Spending Our Money?
My husband and I categorize our finances in envelopes. One
division is miscellaneous. Our daughter understands that when
this is empty, we are not able to buy any extras for that week.
We didn't realize that our daughter looked upon this
envelope as the culprit until one day she said, "Just who is this
Miss Elaneous, anyway?"
Submitted by Judi N., Texas.
____________________________________________________
God Loves You.
Because we were separated from God by sin, Jesus Christ
died in our place, then rose to life again. If we trust Jesus Christ
as our Savior and Lord, He will give us eternal life.
"For by grace you have been saved through faith; and that
not of yourselves, it is the gift of God; not as a result of
works, that no one should boast" (Ephesians 2:8, 9).
http://www.TeachingHome.com/about/Salvation.cfm
____________________________________________________
To Unsubscribe. Please reply to this message and type
"Unsubscribe" in the subject line.
Change of E-Mail Address. Please send your name,
old e-mail address, and new e-mail address.
Sign up for a Free Newsletter Subscription at
http://www.TeachingHome.com/SignUp.
For Information on Advertising in this newsletter, see
http://www.TeachingHome.com/resources/howto.cfm.
Newsletter Archives.
http://www.TeachingHome.com/newsletters
E-Mail Newsletter Reprint Policy. This newsletter is
copyright 2004 by The Teaching Home. Permission is given to
forward or to print and distribute this e-mail in its entirety.
Individual articles from this E-Mail Newsletter may also be reprinted
unedited in their entirety. Please include "by Cindy Short and Sue
Welch" and print the following at the end of the article(s): "Copyright
2004 by The Teaching Home, www.TeachingHome.com. Reprinted
by permission."
Please Note: We do not give permission to post articles on a website.
Reprints from The Teaching Home Magazine. Fill out
a Request Form and note the reprint policies.
http://www.TeachingHome.com/groups/reprint_form.cfm