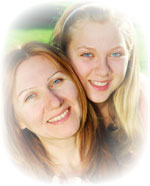 The Girl
I Used To Be
by Rowena K. Lewis
This beautiful poem has been one of our readers' favorites.
She came tonight as I sat alone, the girl I used to be.
And she gazed at me with her earnest eye, and questioned reproachfully:
Have you forgotten the many plans and hopes that I had for you?
The great career, the splendid fame, all the wonderful things to do?
Where is the mansion of stately height, with all of its gardens rare?
The silken robes that I dreamed for you, and the jewels in your hair?
And as she spoke, I was very sad, for I wanted her pleased with me.
This slender girl from the shadowy past, the girl that I used to be.
So gently rising, I took her hand, and guided her up the stair
Where peacefully sleeping, my babies lay, innocent, sweet, and fair.
And I told her that these are my only gems, and precious they are to me;
That silken robe is my motherhood, of costly simplicity.
And my mansion of stately height is love, and the only career I know
Is serving each day in these sheltered walls, for the dear ones who come and go.
And as I spoke to my shadowy guest, she smiled through her tears at me.
And I saw that the woman that I am now, pleased the girl that I used to be.
Copyright 1997 Rowena K. Lewis. Used with permission.
Unique benefits await you at your local, regional, or state home-school convention, conference, or book fair.
We urge you to attend!
Learn more about a major convention in your state by linking to the sponsoring organization's website below.
(Conventions that have already been held are not listed.)
Also find out how to get the most out of attending a home- school event in Newsletter #269.
States A-H
AL
: May 14-15;
AZ
: July 23-24;
AR
: May 14-15; 20-22;
CA
: July 16-18;
CO
: June 17-19;
CT
: June 11-12;
FL
: May 27-29
States I-M
ID
: June 3-5;
IL
: June 3-5;
IA
: June 18-19;
KS
: June 3-5;
KY
: June 24-26;
LA
: Nat. Black Home Educators: July 1-3;
MI
: May 14-15;
MS
: May 14-15
States N-O
NH
: May 28-29;
NJ
: May 14-15;
NC
: May 27-29;
OH
: June 24-26;
OR
: June 25-26
States P-W
PA
: May 7-8;
SC
: June 18-19;
SD
: May 7-8;
TN
: Various Dates by Region;
TX
: July 29-31; Plus
Various Dates
by Region;
VA
: June 10-12;
WA
: August 6-7;
WI
: May 20-22;
WV
: May 21-22;
WY
: May 7-8
Canada
NB
: May 28-29
Do you like Special Offers and learning about new and useful resources for your home school?
Then you will want to check out the Resource E-Mails that come to your mail box!
These free newsletters are made possible by the fine suppliers who advertise in them and the Resource E-Mails.
We trust that you find this newsletter informative and encouraging.
• See our archives of more than 200 newsletters online.
• To change your e-mail address, follow the "Update Profile / E-mail Address" link at the end of this e-mail.
• Add our e-mail address publisher@teachinghome.com to your address book, contact list, or safe list.
• If this issue has been forwarded to you, sign up to receive your own free subscription.
Your e-mail address will never be sold or given to anyone, ever!
HSLDA offers homeschooling families a low-cost method of obtaining quality legal defense that gives them the freedom to homeschool without having to face legal threats alone.
(Use discount group number 299142 for $20 off your membership fee.)
The Teaching Home
Back Issues

Always-Relevant
Teaching Home Back Issues
Fifty-one back issues are offered online or by mail order.
The information, inspiration, and encouragement packed into each back issue never goes out of date. They are always relevant, applicable to your needs today.
Order securely online.
Start the Day Off Right!
One morning our 3-year-old son lifted his shirt and said, "Good morning, God."
When I asked him why he did that, he said, "Because God lives in my heart, Mom!"
Submitted by P. Van Dyke, Iowa.
Send your humorous anecdote to publisher@teachinghome.com.
1. God loves you.
For God so loved the world, that He gave His only begotten Son, that whoever believes in Him should not perish, but have eternal life. (John 3:16)
2. Man was separated from God by sin.
For all have sinned and fall short of the glory of God. (Romans 3:23) For the wages of sin is death. (Romans 6:23)
3. The death of Jesus Christ in our place is God's only provision for man's sin.
He (Jesus Christ) was delivered over to death for our sins and was raised to life for our justification. (Romans 4:25)
4. We must personally receive Jesus Christ as our Savior and Lord.
But as many as received Him, to them He gave the right to become children of God, even to those who believe in His name. (John 1:12)
For by grace you have been saved through faith; and that not of yourselves, it is the gift of God; not as a result of works, that no one should boast. (Ephesians 2:8, 9)
Immerse your family in God's truth through systematic reading and study of God's Word.
See The Teaching Home's Bible reading schedule online at TeachingHome.com.
Listen to the Bible Online
Choose from six English versions (plus Spanish and other languages) at BibleGateway.com/Audio.
Search options at BibleGateway.com include Passage Lookup, Keyword Search,and Topical Index.
Christian Music Online 24/7!
Listen to beautiful traditional, sacred, and inspirational conservative Christian music (commercial free!) when you tune in to these online stations:
We need your help!
Please help us make this newsletter better by letting us know what we are doing correctly, where we need to improve, and topics you would like addressed.
We encourage you to share our e-mail newsletters in the following ways:
1. Newsletter. Forward the entire newsletter to your friends and support group.
2. Articles. Reprint articles in an e-mail or print publication.
3. The Internet. Articles may be posted on the Internet by observing the copyright policies below and including an active link to our website: www.TeachingHome.com.
Please observe the following copyright policies when you reprint our material:
• Editing. Reprint articles unedited and in their entirety.
• Byline. Include "by Cindy Short and Sue Welch," unless another author is listed.
• Copyright Notice and Link. Add: "Copyright 2009 (or year published) by www.TeachingHome.com. Reprinted by permission."
We use, and recommend, E-mail Marketing by Constant Contact to send you this newsletter.
For information about how you can use this service to send out your newsletter and to receive a free 60-day trial, please use our affiliate link to go to www.constantcontact.com.
To advertise in this newsletter,
request information
.
Copyright 2010 The Teaching Home