Accompanying E-Mail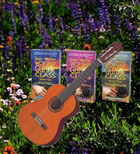 "Learn To Make Music This Summer" is the subject line of the e-mail accompanying and sponsoring this newsletter.
Learn to play the guitar with Jean Welles' simple step-by-step, play-as-you-watch video courses!
Lessons and guitars for adult and kids' levels.

---
State Conventions
---
Oxford Tutorial Service
An Online Tutorial Service
for High School Students
Oxford Tutorials offers college preparation classes over the Internet in C.S. Lewis, Latin, Great Books, Logic, Rhetoric, Shakespeare and J.R.R. Tolkien.
• Follows a classical, Christian worldview and approach.
• Teaches the history of ideas which shaped our culture.
www.oxfordtutorials.com
---
Creation Science Road Guides
Enjoy and Study God's Marvelous Creation with Geological Road Guides from a Creationist Perspective
• John Day Area of Central Oregon (Fossil Beds), $8
• Yellowstone National Park and Adjacent Areas, $12
Mile-by-mile guides to the most interesting stops.
Includes interesting biological and historical information.
Contrasts the evolutionary models with the creation model.
To order call 541-386-2223.
www.roadguides.net
.
---
Christian Liberty Academy
Christian Liberty Academy School System Can Help You Succeed in Homeschooling
Since 1967 we have provided families like yours a flexible, affordable partnership offering Godly education and academic excellence for K-12.
Our CLASS Plan includes books, teacher manuals, tests, answer keys, grading services, report cards, diploma, and transcript.
www.homeschools.org
---
"God Made Music" Series
Give Your Child
a Good Music Education
It's easy to give your child a good music education with the "God Made Music" series.
A comprehensive music education and appreciation course for grades K-7 from Praise Hymn, Inc. 800-729-2821
www.praisehymninc.com
---
Teaching Home Back Issues
The Teaching Home Magazine Back Issues Are Still Relevant and Applicable Today!
Many home schoolers have found information, inspiration, and support from the writers who have contributed to
The Teaching Home
magazine.
Fifty-one Back Issues are
offered for sale online
.
In each issue an average of 58 home schoolers contribute:
• Practical how-to articles
• Encouraging letters
• Ready-to-use teaching tips
"
The Teaching Home
has been a part of my continuing education since I started home schooling, and I have kept every issue." Meredith C., Florida
---
Our Sponsoring Advertisers
Please Thank and Support Our Sponsoring Advertisers!
These free newsletters are made possible financially by the fine suppliers who advertise in them and in the accompanying e-mails.
Please consider those that advertised in our last issue (below) as well as the ones in this issue.
•
NorthStar Academy
•
NorthStar HomeSchool
•
Creation Illustrated Magazine
---
Sunnyside Up
Watch Out for Those Rabbit Raccoons!
Our family was recently part of a home-school outdoor education weekend. An outbreak of rabies in the area made it necessary to warn the children not to touch any wild animals they might encounter.
I later overheard our 3-year-old Michael seriously inform another toddler, "Don't touch any raccoons, because they might be rabbits!"
Submitted by K.N., New York
---
God Loves You.
Because we have been separated from God by sin, Jesus Christ died in our place, then rose to life again. If we trust Him as our Savior and Lord, He will give us eternal life.
"For by grace you have been saved through faith; and that not of yourselves, it is the gift of God; not as a result of works, that no one should boast."
(Ephesians 2:8, 9)
www.TeachingHome.com












_____________________


E-Mail Newsletter Reprint Policy.
This newsletter is copyright 2006 by The Teaching Home.
Permission is given to forward or to print and distribute this e-mail in its entirety.
Individual articles from this E-Mail Newsletter may also be reprinted unedited in their entirety. Please include "by Cindy Short and Sue Welch" (or other author) and print the following at the end of the article(s):
"Copyright 2006 by The Teaching Home, www.TeachingHome.com. Reprinted by permission."
Please Note: We do not give permission to post articles on a website.
For reprints from The Teaching Home Magazine, fill out a
Request Form
.
To advertise
in this newsletter,
request information
.

Greetings!
Welcome to our new summer format and topics!
Each issue will bring you 10 short, practical nuggets for your family's enjoyment and benefit.
Have a wonderful summer with your family and with the Lord!
Cordially,
The Pat Welch Family, Publishers
Pat, Sue, Heather, Holly, and Brian

The Teaching Home is a home-school, family-run business operated in our home since 1980.
---
Provide Positive Neighborhood Fun
• Schedule and limit playtime with neighbors so that everyone will know what to expect. State this as an invitation to children and their parents (e.g., "You are welcome to come play from 2:00 to 4:00, Monday through Thursday.
• Discuss your house rules in simple terms (e.g., no bad language or attitudes, be kind and considerate to all). Appropriate consequences might be time out or end of playtime.
• Add some activities to your children's free play, such as old fashioned games like
marbles
,
jacks
, or
hopscotch
.
• Supervise (by sight and hearing) all interaction so that you can correct attitudes and maintain the standards of your family.
• Invite your neighbors to dinner (maybe a barbecue or picnic), pray for them, and be ready to share the Gospel with them.
---
Take Daily Walks Together

Schedule a daily walk as a family for health and exercise, as well as a time to visit with each other away from the distractions of home.

• Schedule your walks at the same time each day or stop what you're doing and go when there is a break in inclement weather. (Add rain gear and a stroller if necessary.)

• You might save topics or upcoming events to discuss or just ask questions to draw out your children's thinking.
---
It's Not Too Late To Plant Something
If you are not a serious gardener with your garden already planted, you can still plant some vegetables or flowers!
• Buy plants, rather than seeds.
• Let each child plant a patch of earth (for a couple of zucchini plants) or a
container
(for a tomato plant).
What fun to nourish a plant and watch it grow -- then eat or preserve your produce!
---
Some Ways To Fulfill Our "Great Commission"
Opportunities to share the good news of salvation are available in some unique ways during the summer!
• Help with a Vacation Bible School.
• Teach a neighborhood
5-Day Bible Club
.
• Help man an
evangelistic booth at a fair
.
---
Spend Time with the Lord Every Day!
Be sure your family's summer schedule includes daily time with the Lord.
"Family Bible time" or "devotions" do not need to be long or complicated. Just do it!
• Set aside a time each day, perhaps while everyone is still at the breakfast or dinner table or before going to bed at night.
• Let God talk to you by reading His Word. You can read through the Bible each year in only about 15 minutes a day -- and you can start at any time (not only Jan. 1!).
• Take a few minutes to discuss what you've read. Recall facts, test comprehension by paraphrasing, and make applications. (See
Newsletter #29
.)
• Pray, sing a song, or memorize a verse.
If you don't do anything else this summer, bring your family together to meet with the Lord each day!
---
Consider a Year-Round Schedule

Most home-school families continue learning during the summer, either formally or informally. Many families have chosen to continue their studies throughout the entire year with variously timed breaks, such as:

• A four-day school week; three days off.
• Three to six weeks of school; one week off.
• Eight or ten weeks of school; two weeks off.

Vacation days can be spaced out evenly, reserved for holidays or family vacations, or taken all at once in the summer or whatever season is preferred.

Benefits
• Retention of basic skills.
• More time to thoroughly cover a year's program.
• More time to include enrichment activities.
• Consistency of disciplined habits; productive use of time.
• More flexibility for other activities.
• A more relaxed, but steady, pace during the whole year.
---
Read Aloud Together
Reading is a pleasurable summer activity with educational benefits. Reading together as a family makes it that much better!
• Select a book that will keep the interest of all family members.
• Make this time relaxed and enjoyable, but stop to explain or discuss items that come up.
• Read with expression at a slightly slower pace.
• Read together before or after a family activity, such as a meal, Bible reading, or bed time.
• Read at the table, sitting together on the couch, or outside.
• An alternative is to listen together (at home or in the car) to an audio recording of good literature, such as those from your local library,
Henty Historical Novels
or
Blackstone Audio
.
---
Outings and Day Trips

Enjoy God's diverse and wonderful creation with another family or just your own family.

• Prepare a list of the parks and scenic and interesting nature places around your area that you want visit when the opportunity comes up.

• Plan day trips or camping trips.

Add Interest and Education

• Take along binoculars, magnifying glass, and camera.

• Buy a field guide book so that you can identify plants, birds, and animals (guides limited to your area or region are easier to use).
---
Make Your Father's Day Cards Special

Whether you buy a ready-made Father's Day card or make your own, add a personal note or enclose a letter that tells Dad exactly why you appreciate him!

Be specific in telling Dad what you appreciate about his character and actions with examples, such as:
"I appreciate your thoughtfulness in showing interest in me and what I do, like when you ask me what I did today."
"Thank you for helping our neighbors when their car wouldn't start."

Dad will be sure to treasure these cards!
---
Out with the Old; In with the New
Before starting preparations for next year, get last year wrapped up and off your mind.
• Collect and put away your home-school books, records, papers worth keeping, and other materials.
• Evaluate your year by simply asking "What went well?" and "What do we need to change?" Or use our
evaluation form
for more detailed discussion with your husband and family.
• Decide whether there is any unfinished schoolwork that really needs to be finished up and plan to work on that.
Remember: Your school year did not have to be perfect in order to be good for your family and honoring to the Lord!
---
How do you like our new summer format and topics?
We would love to hear from you!
---